Long History of Nigeria And Argentina Rivary on the Pitch of Play
Would a FIFA World Cup be complete without the Super Eagles facingArgentina? Doesn't look like so. Since 1994, both countries have been grouped together in the first round of matches.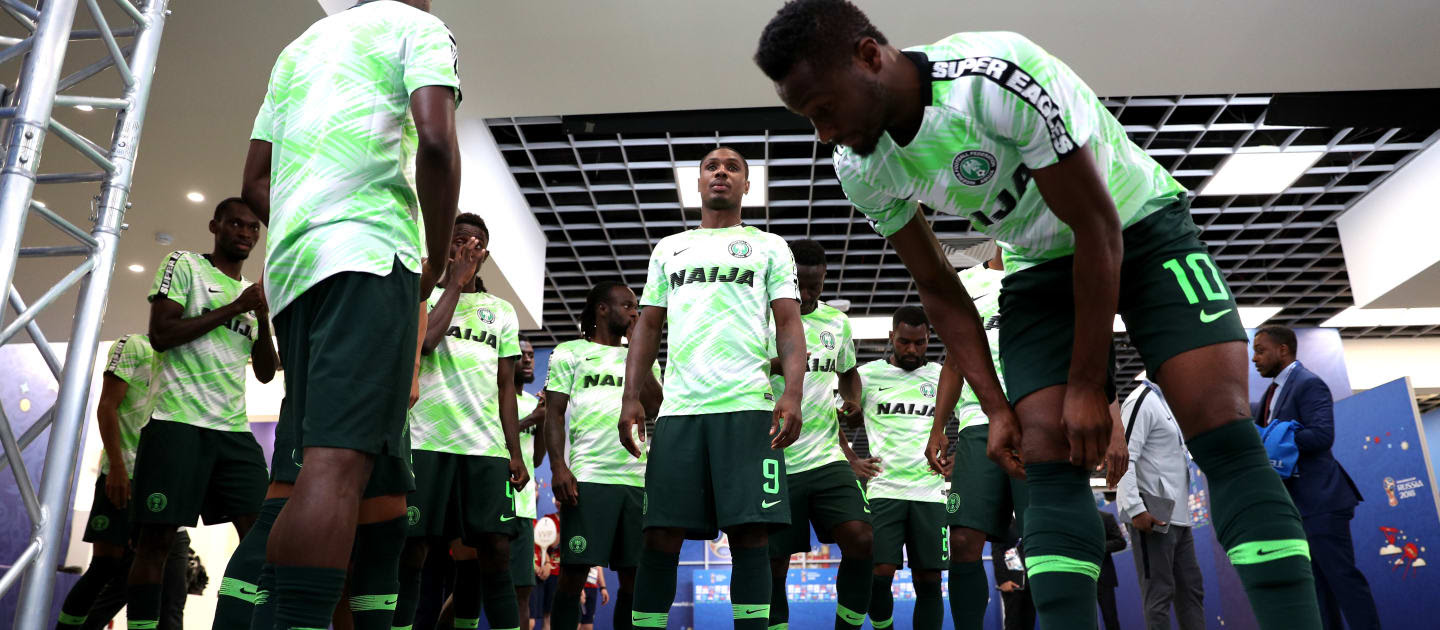 With Croatia already qualified by topping Group D, Nigeria and Argentina both need a win to reach the Round of 16- Argentina more desperately so. The highly rated La Albiceleste have yet to win a match at Russia 2018. Ahead of the extremely decisive match, here's a look at the countries' twenty-four years of World Cup rivalry.
USA 94:  Argentina 2- Nigeria 1
The Golden Generation of the Super Eagles took the world by storm in 1994. The players, led by Dutch coach Clemens Westerhof were rated fifth in the world at their World Cup debut, the ever highest ranking for an African team. Samson Siasia scored Nigeria's only goal before Claudio Caniggia double gave Argentina the win. Both countries then crashed out in the second round after losses to Italy and Romania respectively.
Korea-Japan 2002: Argentina 1- Nigeria 0
The sides missed each other in France 98 faced each other again in Ibaraki, Japan. It would turn out to one of the worst outings for the Super Eagles. They lost 1-0 against Argentina in the first group game, lost again to Sweden and managed a draw with England. Argentina didn't fare better either- they lost against Sweden and drew England as well, ensuring that both teams did not progress to the second round.
South Africa 2010: Argentina 1- Nigeria 0
Fourteen years after he led La Albiceleste as captain, Diego Maradona returned to the team as head coach. Argentina won by a goal through Gabriel Heinze's header and went as far as the quarterfinal while a second defeat against Greece saw them exit the tournament early.
Brazil 2014: Nigeria 2- Argentina 3
Perhaps the most thrilling encounter between the two sides. Lionel Messi was the current holder of the Ballon D'or, but he had never scored against Nigeria. He rectified that quickly with two goals past Victor Enyeama. Ahmed Musa leveled scores with a brace of his own and Messi had to be substituted before Argentina got their third goal and a win. Nigeria moved on to play France in the Round of 16 while Argentina lost to Germany in the finals.
Nigeria's coach Gernot Rohr– thinks that the tide turns eventually. "Runs like that have to come to an end at some point," he said at his press conference.
For once, Argentina does not have the upper hand as they go into the match later today in St. Petersburg. Their outing at Russia 2018 so far has been nothing short of disastrous. Not only are the players in an open revolt against their coach Jorge Sampoli, their star man Lionel Messi cannot even get a goal. All they have is a hope that their fifth meeting with Nigeria will yield the same result for them.
Russia 2018 Nigeria vs Argentina: A preview
Two-goal hero Ahmed Musa is also brimming with confidence; he now has four goals from two games against a Messi side- one in the Brazil group game in 2014 and the other when his Leicester side faced Barcelona. Nigerians hope the fifth time would be the charm for the Super Eagles.
5 Most Anticipated World Cup Round 3 Matches (See List)
This week the last round of group stage matches will be played in the ongoing Russia 2018 world cup. Only 16 teams – top two in each group – will make it to the next stage, while the remaining 16 go home.
The first and second places have been decided in some of the groups, but same cannot be said in other groups. As the final round of matches starts today, I highlight the games the world anticipates most.
1. Nigeria vs Argentina
This is arguably the most anticipated match of the final round of matches – because Argentina is involved, because Messi is involved.
Messi badly needs the world cup to add to his trophy cabinet. Some analysts have said they can't put him in the exclusive class of Maradona, Pele and Zidane until he wins the world cup.
Now, that's arguable. But getting eliminated in group stage would be disaster, in any case.
Losing – or even playing a draw – against Nigeria and not making it out of group stage will be the lowest point in his career. Can Messi avert this embarrassment? The world waits.
2. Iceland vs Croatia
The world does not anticipate this match because of the direct countries involved, but because of the indirect party – Argentina! Again, this match is critical because the fate of Argentina in this embarrassing run depends not only on the Argentina game but also on this game.
Winning Nigeria will not be enough for Argentina if Iceland beats Croatia by a wide margin.
If Iceland beats Croatia by just a goal margin, Argentina will have to beat Nigeria by at least 2 goal margin to stand a chance. Tough luck, Albiceleste.
3. England vs Belgium
This match has no bearing on the qualifications as both teams have already made it to the second round.
This match is not looked forward to because of the dynamics of the group but the anticipation started the moment the fixture was done. Both teams have had an easy run so far, but this will be their first real test in this world cup.
It could also be a battle between Lukaku and Kan who are both gunning for the top scorer in world cup.
4. Senegal vs Colombia
When one had thought Senegal would have an easy run given the result of their first game, they put themselves in trouble after making Japan come back twice in their second match. Now, they risk not making it out of the group.
To make matters worse, they are playing against a resurgent Colombian team. Colombia was highly rated before this match but their first game loss put them in trouble. They came back smoking in their second game and got an emphatic 3 nil win over Poland.
Now, Senegal is facing a wounded lion who need victory at all cost. The bad news for Senegal is, Colombia has the quality.
A draw will be enough to Senegal, but can't they stand the rampaging South Americans? The world anticipates.
5. Sweden vs Mexico
This is another tricky match – not because of the parties involved, but the party that is not directly involved but will be affected by the outcome. That is Germany.
Germany currently shares second position with Sweden in the group – both on same points, goals, and goals difference.
Actually, Germany is on second position only based on head to head with Sweden, which is good for them.
Winning their last game against group whipping boys, South Korea, is also not the problem for Germany, the problem is Sweden winning Mexico, which has already qualified and has nothing to lose, by a margin wider than the margin Germany gets over South Korea.
If that happens, the head to head will not be the decider, but the superior goal difference of Sweden. That sounds far fetched, but Germany should watch it.
It will be a disaster if Germany fails to go beyond group stage given the pre-tournament rating. The world waits.